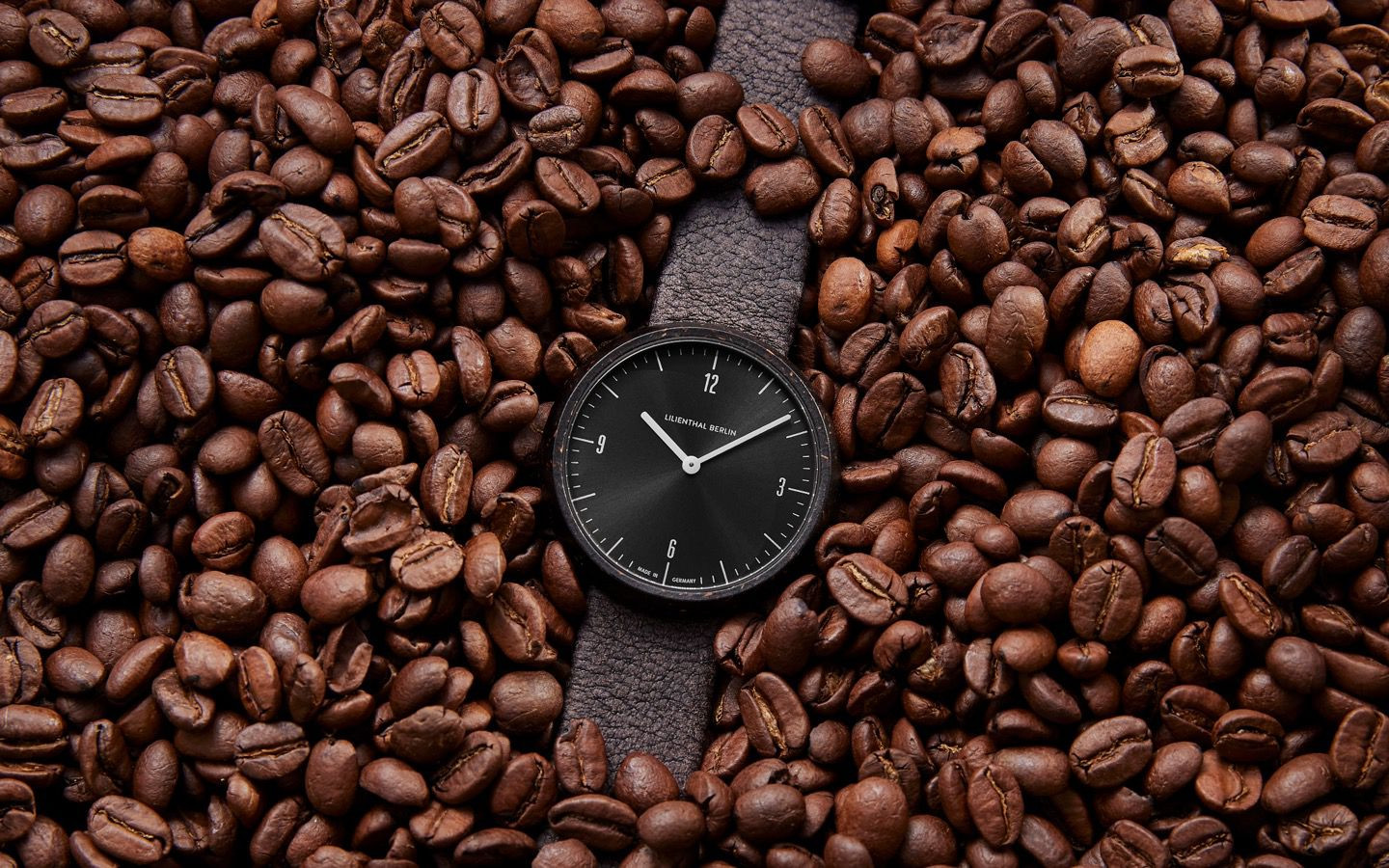 In a collaboration, Swiss watchmaker Hublot and coffee giant Nespresso came together to create a unique and limited run of timepieces. The two companies combined their expertise to craft watches using recycled coffee pods, showcasing an innovative approach to sustainability.
According to Lilienthal Berlin another watch company that uses coffee grounds in making their watches, more than 20 million tonnes of waste coffee grounds are collected in Germany alone each year, prompting the company to create Coffee Watch to eliminate this waste. All these are creative approaches to the sustainability of the environment.
The focal point of these extraordinary timepieces is the aluminum coffee pods themselves, which have been repurposed to form the case, bezel, crown (complete with the Nespresso logo), and pushers of the watch. By transforming these everyday coffee capsules into luxurious watch components, these companies have found an ingenious way to give new life to materials that would otherwise go to waste.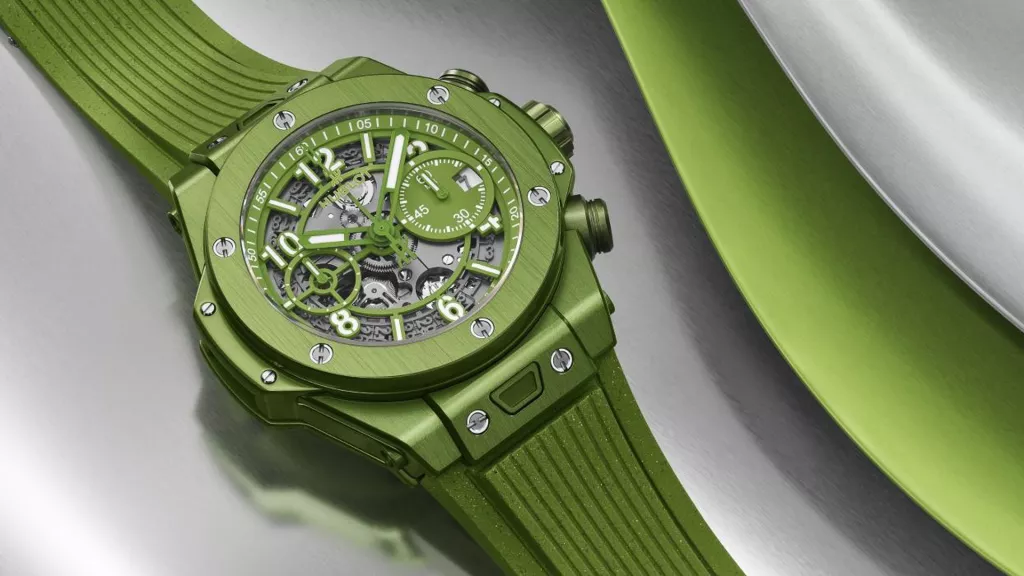 Image Credit: Hublot Watches
They wish to demonstrate how fun sustainable living can be with the Coffee Watch. That it's worthwhile to question the status quo and do something different. That it is feasible to create a watch out of something as obviously useless as coffee grounds and that superior quality and sustainability can coexist with fashionable accessories.
The coffee grounds are skillfully repurposed to create a pair of rubber straps, enhancing the watch's unique design and adding a touch of eco-consciousness. Meanwhile, the Velcro strap is made from 95% recycled polyester, emphasizing the commitment to sustainability while incorporating 5% of coffee grounds.
Nespresso and Hublot have taken great care to ensure that the recycled materials used in the watches meet high standards. They proudly state that 28% of the aluminum used for the case is sourced from Nespresso capsules, underscoring their dedication to incorporating materials from the coffee industry into the design. The rubber strap, which makes up a significant portion of the watch's composition, comprises 4.1% coffee grounds and 8.2% recycled white rubber, further emphasizing the commitment to environmental stewardship.
Together, Hublot and Nespresso have managed to create a collection of watches that not only embody luxury and style but also contribute to sustainable practices. This unexpected collaboration serves as a testament to the power of innovative thinking and showcases the endless possibilities when companies unite in pursuit of a common goal.
It also reminds us that even small changes and unexpected partnerships can make a significant impact on our planet. With their recycled coffee pod timepieces, these companies inspire others to explore new ways to repurpose materials and contribute to a more sustainable future.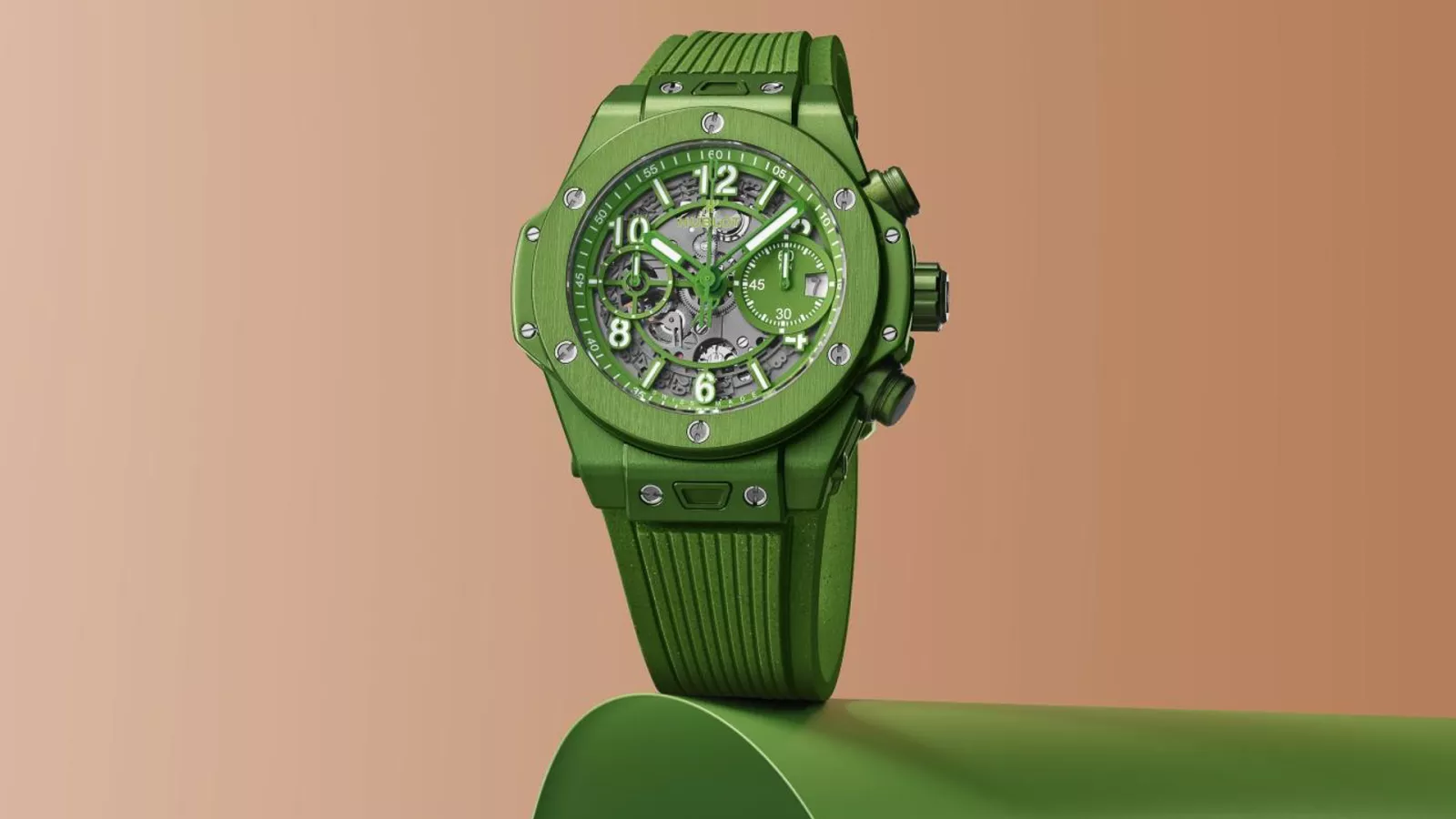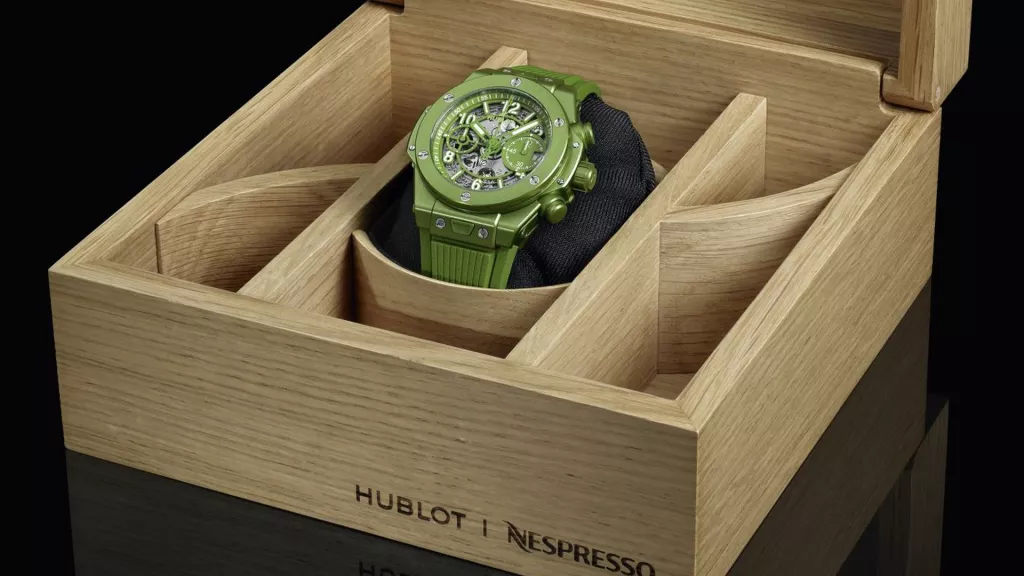 Image Credit: Hublot
The watch's striking green case, measuring 42mm across and 14.5mm thick, immediately captures attention with its bold and unique design. Powered by the same Big Bang Unico automatic chronograph movement found in other Hublot watches, this timepiece offers both precision and reliability. The inner workings of the watch are beautifully displayed through the open, skeletal-style dial, allowing enthusiasts to marvel at the intricate craftsmanship.

While the watch boasts 10 meters of water resistance, the information regarding its performance, when submerged in boiling water with a splash of milk, remains unknown, leaving room for curiosity and speculation.
The intricate automatic movement, visible through the exhibition case back, showcases remarkable details. With a date complication positioned at three o'clock, 43 jewels, and an impressive power reserve of 72 hours, this timepiece ensures accurate timekeeping even after being taken off on a Friday evening and left untouched until Monday afternoon.
Guillaume Le Cunff, CEO of Nespresso, praised the collaboration between Swiss companies, emphasizing shared values of innovation, quality, sustainability, and Swiss spirit. The exceptional watch aligns with Nespresso's commitment to sustainability and transitioning to a circular business model, focusing on reusing coffee grounds and aluminum in capsules.
Limited to only 200 individually numbered pieces, the Hublot Big Bang Unico Nespresso Origin watch is an exclusive online offering. With a price tag of £20,800, this timepiece represents a fusion of impeccable Swiss craftsmanship, sustainability, and a touch of exclusivity for discerning watch collectors and coffee aficionados alike.